What is Smart Bidding?
According to Google, smart bidding (or auction-time bidding) is the process of using machine learning to automate bid strategies in order to better optimize conversions or conversion values. By using smart bidding, managers can both increase the performance of their bidding and save valuable time needed for other important projects.
Various strategies that fall under the concept of smart bidding include:
Target CPA
Target ROAS
Maximize Conversions
Maximize Conversion Value
Enhanced CPC (ECPC)
This post will discuss the new features that Google recently announced this past week in their Google Ads program and in what ways each feature will help you take the next step into maximizing your bidding execution.
Seasonality Adjustments
During seasonal "peaks", managers will need to find ways to work efficiently in order to benefit their clients the most. These peaks are always the perfect time to take advantage of huge shifts in conversion rates. This is where the new feature comes in. Previously, managers needed to create these seasonality adjustments for each individual account in their companies, which led to a lot of time-consuming and repetitive work. However, you can now set them at the manager account level instead of creating them for each individual account. Think of this as a "global" function of sorts.
Top Signals For Search Campaigns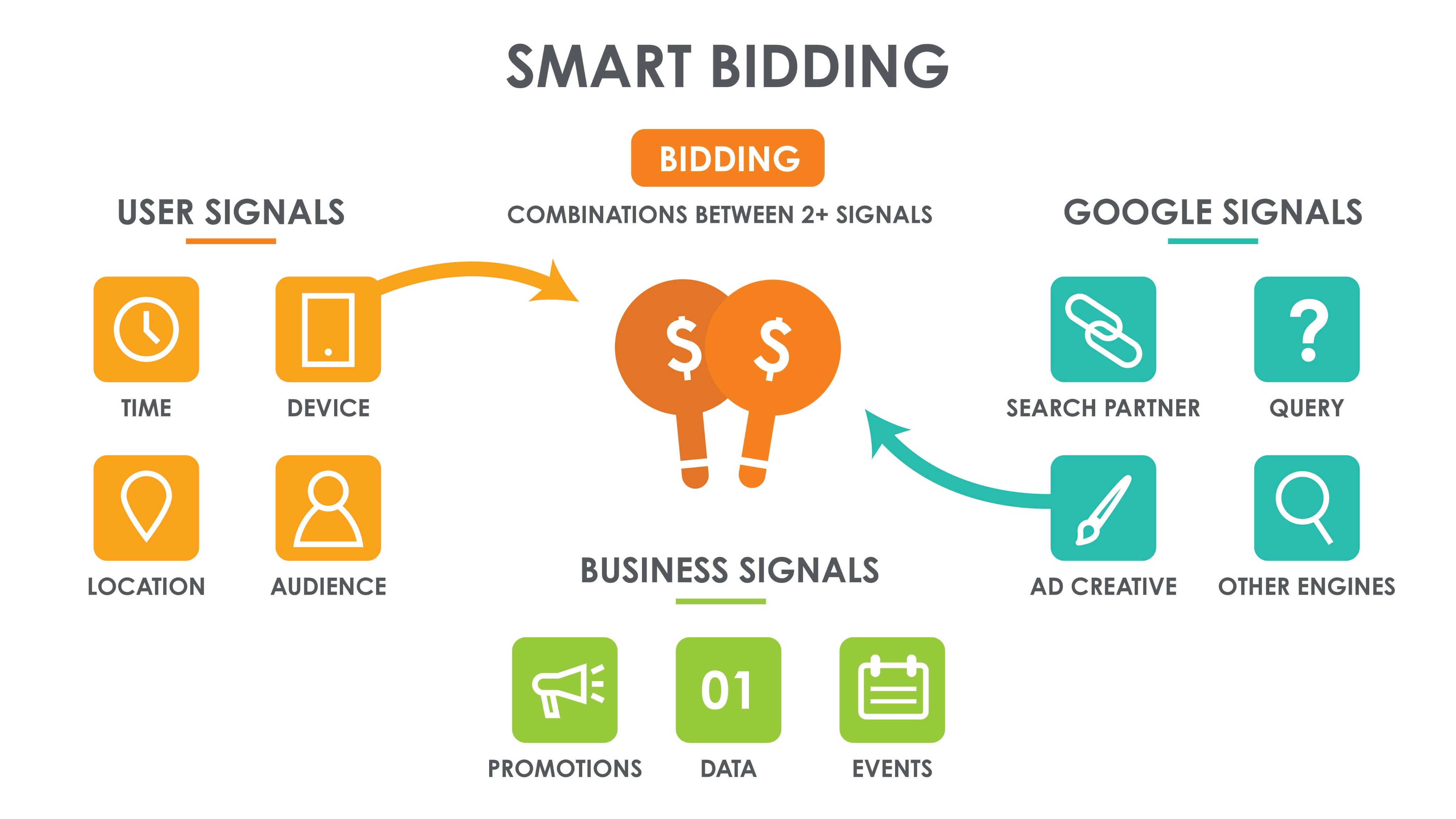 In simple terms, top signals are the driving force behind an ad campaign. These metrics are a very important part of what makes a campaign successful or not. Through the use of smart bidding, Google will automatically optimize signals towards users that have a better chance of converting.
Some examples of top signals include:
Device Type
Location
Day of Week
Time of Day
Keywords
As shown in the graphic above, it is shown that there can be several types of signals that can directly affect bidding results. Before, top signals were only available for campaigns that used the Target CPA and Maximize conversions, but now these same signals will be available for use for Target ROAS and Maximize conversion value as well. Having more options can yield more high-quality results through experimentation and trial & error.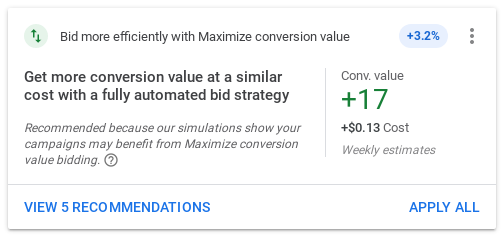 Smart Bidding Simulations
Ever want to find out how a certain target bid and/or budget changes can affect the performance of your campaigns? Look no further. With the newly updated target impression share simulators, managers can now see how certain strategies and adjustments can affect various metrics, such as views, clicks, impressions, and more. Before the update, the simulation tool was only available for conversion and click-based strategies, but now it is available for target impressions to share for search campaigns. While there are a wide variety of bid simulators available on Google Ads, such as bid, budget, and target simulators, this update will bring much-needed forecasts for managers who are unsure of the direction they want to head towards.
Since many of these new features can be difficult to grasp at first, it is understandable if you are unsure of how these features may affect your ad campaigns. To get the full picture of how these features can benefit your business directly, schedule a free consultation with us today.